Site news
Date added: 05/04/2013

Feel Free as a Bird with the New Colibri Electronic Cigarette from ePuffer

ePuffer inc. has enjoyed enormous success for their range of electronic cigarettes, ecigars and epipes as they have brought to market an innovative product that is popular with those who like the freedom of smoking.

FOR IMMEDIATE RELEASE

London, UK – 3 May, 2013


The original Colibri e-cigarette is already a bestseller with many accolades and awards, yet despite its popularity, ePuffer have enhanced this model to make it better still.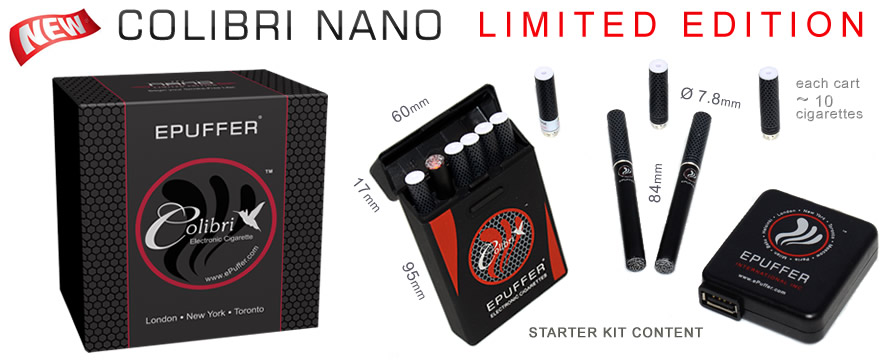 They've expanded on the models namesake, Colibri, also known as the Humming Bird, as this is the most delicate, light and beautiful bird on earth, so ePuffer have encapsulated its features for their new improved design. Now lighter, smaller and more convenient the Colibri offers a luxury alternative to normal cigarettes. The patented cartomizer dispenses nicotine levels bespoke to the user's desire in a range of flavours without the smoke. This makes it ideal for smoking indoors or in public areas, as a vapour is released without any of the tar or toxins of a usual cigarette.

The nicotine is available in decreasing strengths so users can choose the alternative they prefer, The Colibri electronic cigarette also comes with a Variety of Tobacco blends such as: Premium Tobacco, Refreshing Menthol, Belgo Smooth, Mirabella, Nano Lux and 5X5 Special Blend

and six that add a refreshing change with flavours of: Crisp Green Apple, Deep Sweet Cherry, Summer Strawberry, Refreshing Menthol, Intense Coffee and Creamy Chocolate.

Now for a limited time only customers can benefit from either of these Variety Packs with nicotine strengths of their choice Absolutely FREE when they purchase the new Colibri Nano. The upgraded Colibri Nano electronic cigarette benefits from all of these popular features while improving on others that ePuffer believed needed a little enhancement.

For example, ePuffer have now

- Made it quicker to charge with the addition of rapid charge technology
- Redesigned the entire ecigarette battery to incorporate TurboFlow III technology which gives a smoother smoking experience with more vapor, silently.

Along with the personal charging case, the sleek and stylish design that was popular at the Oscars and the Golden Globes, customers can now enjoy this upgrade as this new model is distributed world-wide.

Shawn, the founder of ePuffer explains why an upgrade has been launched, "Since the launch of the original Colibri in 2011 we've had an amazing journey. We've been overwhelmed by how popular our ePuffer products have been and continue to be. Despite the awards and the incredible sales here at ePuffer we always strive for excellence and we saw improvements that could be made. These improvements enhance the overall design and offer an even better ePuffer experience so using Colibri Nano as an alternative to cigarettes is now the obvious choice."

Now anyone can smoke virtually anywhere regardless of the smoking bans with Colibri Nano.
Date added: 02/28/2013

Nominees Flock to Try the ePuffer Electronic Cigarette at the Oscars

Los Angeles, Hollywood - February 28, 2013

Last week, ePuffer brought the revolutionary electronic cigarette with a difference to the Hollywood stars at the Academy Awards.

As the buzz began to grow and the gowns began to glitter, even ePuffer were amazed by the interest in their sweet smelling, craving eliminating, and sexy looking aid to giving up the smokes.

To see just how sexy and ePuffer looks when used by a Hollywood star, check out this lucky e-cigarette dangling from the lips of the gorgeous Sophie Monk!

ePuffer is different to any electronic cigarette on the market as it offers a variety of options that enable smokers to tailor it to their needs. Using atomising technology it will dispense the same taste and nicotine content of a favourite brand of cigarettes, without the harmful chemicals, the tar and of course, the smelly smoke.


These attributes were just part of the reason that Hollywood stars flocked to the stand, looking for new ways to help their own guilty sin, or taking away samples to give to a family member they'd like to see give up.

Hollywood Stars Pick up the Tab with ePuffer

Many picked up their complimentary ePuffers, the ecigars being especially popular with the men, such as John Salley a 4x NBA Champion who couldn't wait to give it a try and used the Academy Award lounge to test it out. With no need to leave the building, stars began sparking up straight away, no ash, no smoke, no smell, no mess, but their pre-Oscar nerves were calmed.


From twilight star Peter Facinelli to Oscar nominee Sam French, the ePuffer made a statement of its own. ePuffer gave an incredible insight into the lifestyles and tastes of the Hollywood stars as some chose e-pipes to puff on while others favoured e-cigars.





Then non-smokers began to flock to the stand, seeing and smelling the scents of the purifying ePuffer in action, they saw the goodies bags as great thoughtful gifts for loved ones trying to give up.


We enjoyed a lengthy chat with Jessica Chastain who believes her grandmother will benefit considerably from ePuffer, and hopes she'll use it straight away.
Date added: 01/20/2013

Debut of Colibri NANO in Hollywood!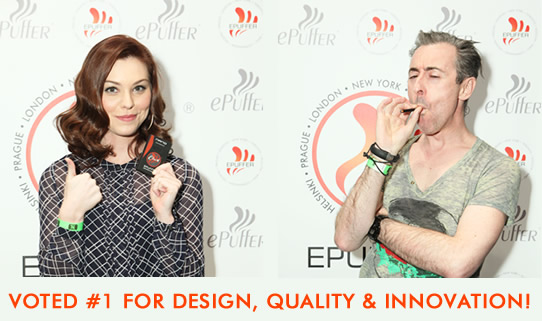 The new ePuffer COLIBRI NANO are ready to set new standards in electronic cigarette industry.
World's smallest and lightest rechargeable E-Cigarettes are now available for online and retail sale.
Get all the satisfaction of smoking without facing any of the troubles associated with it by taking advantage of the Colibri Nano electronic cigarettes introduced by ePuffer. Priced at only £39.95, this is a limited period offer and possibly the best gift you could give to a smoker. The standard starter pack comes with 2 batteries, 5 spare cartomizers, a charger and the charger pack. This slim and stylish product gives you the taste, feel, and smell of a cigarette but keeps away the other harmful effects of nicotine. Its several other benefits have made it a huge hit with the Hollywood crowd of stars and celebrities in the Golden Globes Style Lounge.
As the CEO and official spokesperson for the company says, "While there is a definite satisfaction in taking in a whiff; the odor that a cigarette leaves behind on your clothes or car. We free you from all these problems with the new Colibri Nano. Not only can you smoke it anywhere, you can also enjoy it without having to worry about how your clothes would smell – it is virtually odorless. The biggest advantage of the product is that it tastes like tobacco without having any in it. There is also a possible reason why this ePuffer product is such a favorite with stars who prefer to buy electronic cigarettes. It satisfies your nicotine cravings but it does not have any effects on your skin, nor does it stain your teeth. So essentially a product that leaves you satisfied and yet does not affect you negatively. Who doesn't love it?"
The Colibri Nano gives you all the pleasures of smoking – it even looks and feels like a traditional tobacco cigarette. And it does not matter if you are addicted to nicotine, planning to reduce the dose, or are simply trying to quit. With this ePuffer product, one can select the amount of nicotine content for their cartridge which is a definite advantage of traditional smoking methods. From 1.2mg at a maximum to 0.3mg or no nicotine at all – the choice is yours. This is also helpful if you are planning to cut down on your dosage of nicotine and have been unable to do so.
As the spokesperson further points out, "As long as you carry your Colibri Pack, you will never have to worry about smoking. And given that at for the price of one traditional cigarette pack, you can get about 70 cigarettes in equivalent, Colibri is a cost effective product too. And if Hollywood stars are using our product, there must be something about it that is worth trying."
To know more about the Colibri Nano, visit: http://epuffer.eu/electronic-cigarette/colibri-micro-electronic-cigaretts/colibri-nano-starter-kit.html
Date added: 10/05/2012

Phantom HD Electronic Cigarette Unleashed by ePuffer

FOR IMMEDIATE RELEASE


ePuffer has launched the latest weapon in its quest to change the face of worldwide smoking habits. The Phantom HD electronic cigarette is the latest model to be manufactured by the award-winning e-cigs specialist and its inventors are convinced it is the perfect product for heavy smokers.
The PHANTOM HD is a step forward from its popular predecessor the PHANTOM T1, which has been selling strongly since its launch at the start of 2012. The PHANTOM HD has a second generation tank base and the beauty of it is that it comes with a replaceable heating element in the form of an atomizer needle.

The PHANTOM HD starter kit includes five atomizer needles and its users will save money as they do not have to dispose of the atomizer but simply replace the needle. It also comes in a super-sleek and stylish gift box.

An ePuffer spokesman said: "Everybody at ePuffer is really excited by the PHANTOM HD. A growing number of people are turning to electronic cigarettes as a healthier alternative to conventional tobacco and because the PHANTOM HD is a strong and sturdy product it is absolutely perfect for heavy smokers."

All ePuffer's electronic cigarette products offer smokers a better alternative to tobacco cigarettes. E-cigarettes are harmless as they contain a nicotine solution that satisfies the cravings of smokers but does not contain tar or any nasty chemicals that can increase the risk of cancer.

Smokers across around the world are beginning to turn to e-cigarettes as part of their quest to ditch the dreaded tobacco weed. Harmless electronic cigarettes such as the PHANTOM HD also mimic conventional cigarettes by producing a realistic vaporizing smoke when inhaled – and they can also be used in public places as they are not party to smoking bans.

The ePuffer spokesman added: "We like to push the boundaries at ePuffer and are always looking to develop our products based on the feedback from our customers.

"The PHANTOM HD is the latest innovation but there are many more exciting products under development that we are looking forward to sharing with the outside world soon."
The PHANTOM HD starter kit costs $79 in North America, and £59 in the UK and Europe.
The bundle includes a five tank cartridges, five atomizer needles, two 750mAh batteries with a smart LED function, AC & USB adapters, and user manual. A bottle of premium tobacco flavor e-liquid is also included as an introductory bonus offer.


About ePuffer International Inc.
ePuffer is one of the pioneers in the electronic cigarette industry playing a huge role in developing the electronic cigarette market in America, the UK and Europe. They offer a full range of electronic smoking devices to over one million smokers in 26 countries.
("e-cigarette"/ "e-cigar "/ "epipe") is an alternative to smoked tobacco products, such as cigarettes, cigars, or pipes. ePuffer is a battery-powered device that provides inhaled doses of nicotine by delivering a vaporized nicotine solution. In addition to nicotine delivery, this vapor also provides a flavor and physical sensation similar to that of inhaled traditional cigarettes, while no smoke, or combustion is actually involved in its operation.

Investor relations, visit ePuffer's corporate portal at http://www.epuffer.co
Date added: 08/25/2012

A HIGH FIVE FOR EPUFFER

THE ePuffer team is feeling extremely proud today. Why?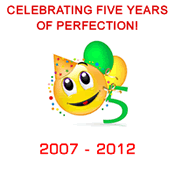 We are about to celebrate our five-year anniversary. We are also feeling incredibly excited because we feel we have only just scratched the surface in what we can achieve as a company.

Back in 2007, the electronic cigarette industry didn't really exist. There wasn't a viable alternative for smokers who wanted to swap tobacco for a healthier alternative. But the ePuffer team has played a huge role in developing the e-cigarette market across the UK and Europe and also in North America to make e-cigs an integral part of people's lives.

The last five years have been an incredible journey but the important thing is to look ahead and think about what we can achieve as a business in the next five years and the five years beyond that. There are some exciting new products in the pipeline. Watch this space and here's to the next five years!


Making a difference

The team at ePuffer is committed and dedicated to making a difference to people's lives. The business has come a long way in the past five years and we are well on the way to becoming a world leader in the rapidly-growing electronic cigarette market. We are proud to have won awards for our innovation and our company is moving with the changing times to meet the burgeoning demand for healthier e-cig products.

The ePuffer team never stands still. Our experts have developed a true nicotine formula that satisfies the cravings of smokers. We also love to listen to our customers and every product we launch is based on their feedback. Remember, the customer is always right.
Date added: 06/12/2012

Father's Day Sale is ON Now! Save up-to 35% OFF

For a limited time SAVE up-to 35% on ePuffer Kits, Spare parts, Refills and Accessories.



Discount Coupon Code: SAVEDAD
Date added: 03/29/2012

ePuffer launched Magnum UNO D3 Disposables

FOR IMMEDIATE RELEASE

London, UK – 29 March, 2012

ePuffer UNO D3, a 5th generation disposable electronic cigarette has arrived.

ePuffer International Inc, the makers of electronic vaporizing devices, today launched their new MAGNUM UNO D3 a 5th generation disposable electronic cigarette. The new D3 model is powered by ePuffer's exclusive pre-charged 3.6V cylindrical lithium battery. This new battery was developed for a retail market as it provides of up-to 3 years shelf-life.

As all UNO predecessors, the D3 model will also last for up-to 500 puffs, this makes it equivalent to 2 packs of tobacco cigarettes. MAGNUM UNO D3 is first electronic cigarette to feature a glowing tip in form of the burning charcoal and available in three flavours: Tobacco, Belgo* and Menthol.

* Belgo flavour is ePuffer's exclusive formula made from the finest tobacco leaves. This new in-house multi blend tobacco formula provides smooth smoking experience and backed by our company to meet your satisfaction.
Date added: 01/19/2012

ePuffer unveils "SOLEX 3500" solar powered emergency charger

For Immediate Release

ePuffer® unveils "SOLEX 3500" Solar powered emergency charger

New York (January 10th, 2012) ePuffer International Inc, the makers of electronic vaporizing devices, today launched their new SOLEX 3500 multi-functional solar powered emergency charger. It has a built-in 3500mAh capacity rechargeable polymer lithium-ion battery that can be charged by sunlight.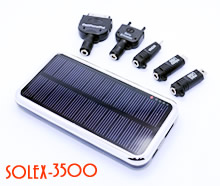 The included charging cable can also be used to charge the SOLEX 3500 via a computer USB, an AC adapter or a car charger. The SOLEX 3500 can easily charge all your ePuffer e-cigarettes AND your other mobile digital devices, including your mobile phone, digital camera, MP3 player, GPS device or Bluetooth headset.
Date added: 01/19/2012

ePuffer launched Phantom T Electronic Cigarette

For Immediate Release


London, UK (January 19th, 2012) , The Phantom T has been launched by ePuffer, one of the global leaders in the burgeoning electronic cigarette market.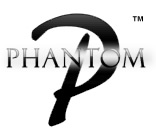 Unlike other e-cigs, the Phantom T's 1.2ml cartridge can be refilled up to 30 times and can retain its fresh flavor throughout its lifespan.
The Phantom T comes with two long-lasting 750mAh batteries and each one has the capacity for 800 puffs. The batteries in the starter kit also have an LCD window that counts the number of puffs and also offers battery charging information.
Customers also have the option of purchasing a higher capacity 1300mAh battery, which comes with a front USB socket and can be used as a USB pass-through device while it is charging.
An ePuffer spokesman said: "The Phantom T produces a large amount of vapor and has an extremely smooth draw.
"It is great news for heavy smokers as the cartridge capacity, longer battery life and the technology the Phantom T is based on offers a longer and more satisfying experience for smokers.
"We think this is the best value for money for heavy smokers on the e-cigarette market."
The ePuffer team has taken its original Tankomizer concept and improved the technology by implementing stronger anti-leak safeguards and steps to prevent overheating.
A growing number of smokers worldwide are starting to ditch traditional cigarettes and are switching to the smoke-free alternative. Electronic cigarettes such as the Phantom T also produce a realistic but harmless vaporising smoke when inhaled as well as looking like a real cigarette.

The Phantom T starter kit costs £59 in the UK and Europe, and $99 in North America. It comes with two 750mAh batteries with a smart LCD function, two atomizers, five Cartridges, a bottle of liquid, a travel pouch, an AC-2-USB adapter, USB charger and user manual.

About ePuffer International Inc. ("e-cigarette"/ "e-cigar "/ "epipe") is an alternative to smoked tobacco products, such as cigarettes, cigars, or pipes. It is a battery-powered device that provides inhaled doses of nicotine by delivering a vaporized nicotine solution. In addition to nicotine delivery, this vapor also provides a flavor and physical sensation similar to that of inhaled tobacco smoke, while no tobacco, smoke, or combustion is actually involved in its operation.
Date added: 01/14/2012

A NEW YEAR… A NEW BEGINNING


The New Year is the perfect time to set yourself a new goal.

It might be keeping fit or learning a new language. But one of the most popular resolutions for people across the world is to give up smoking tobacco cigarettes.

2012 is building up to be an exciting year for the ePuffer team. We have recently launched our new COHITA D1500 Disposable Electronic Cigar and the release of MAGNUM UNO D3 Disposable Electronic Cigarette is just around the corner. New Disposables contain a state-of-the-art battery that allows the product to sit on the shelf for up to five years, while only losing 10% of its charge.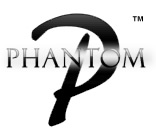 We are also poised to launch our new PHANTOM T e-cigarette, which will be a perfect product for heavy smokers. The PHANTOM T's 1.2ml cartridge can be refilled up to 30 times and can retain its fresh flavor throughout its lifespan. The starter kit comes with two long-lasting 750mAh batteries, each with the capacity for 800 puffs (There will also be an optional 1300mAh battery with usb pass-through feature). We are really excited about this product!

And the brilliant news for customers is that although the PHANTOM T officially launches on Monday January 16, you can take advantage of our New Year sale that runs until this Sunday and buy the PHANTOM right now at a great discount.
We are also entering the clean air market and are planning to introduce some new desktop and mobile gadgets that purify the atmosphere. They will include the new IONIC Air Purifier. Keep checking our website for more details.
The ePuffer team is also planning to release a prestigious line of signature e-cigarettes early in the New Year. These premier products will be suitable for our high-end, VIP clients and will appeal to customers who enjoy that little bit of added luxury. The prestige kits will include an electronic cigarette and a luxury pen and will make a great gift.
At ePuffer we pride ourselves on our products and quality customer service. We are grateful you have shown belief in us and we hope you join us for the next stage in our journey.
Our products have already helped more than 50,000 people quit smoking tobacco cigarettes and many more cut down on tobacco intake.
So get healthier in 2012. Get ePuffer!
Happy New Year!